Blu-ray at 10: A Gateway to the Future
---
<![if !vml]>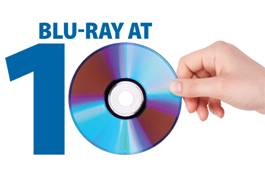 <![endif]>
James Cameron once said, "I wish all my movies could be seen by everyone at home in Blu-ray. It's the image quality, it's the color, it's the quality control — it's everything."
The acclaimed director of Avatar and Titanic, two of the highest-grossing movies in history, knows what he's talking about. As Blu-ray Disc approaches its 10th birthday, the disc remains the best, and most popular, way to watch movies in the home. And as it continues its evolution into Ultra HD, Blu-ray will play a key role in bringing this new technology to consumers.
More than 90 million U.S. households have a Blu-ray Disc player, and people continue to spend more money on buying discs than they do on any other medium. Blu-ray's picture quality is unsurpassed, and so is its sound. A Blu-ray Disc player unlocks virtually every other viewing option imaginable and gets a nod from Consumer Reports as the best streaming media player out there. Blu-ray also will be a prime mover in the Ultra HD rollout because of its high capacity. As CNET said, Ultra HD Blu-ray "will look significantly better than any streaming feed. … The possibility of pristine 4K content is exciting, but even more so is the potential for a wider color gamut, High Dynamic Range and more." The arrival of Ultra HD, in fact, will likely trigger a Blu-ray resurgence, as consumers once again put quality in the forefront. Shipments of 4K UHD displays are projected to reach 4 million units in 2015, a 208% increase over 2014, according to the Consumer Electronics Association (CEA). And 33% of all consumers, according to a CEA survey, say they may purchase a 4K Ultra HD TV within the next three years.
This summer marks the start of the Blu-ray Disc's 10th anniversary year. The format was introduced to consumers in June 2006 on the eve of the high-definition revolution, to give them the single best viewing experience — which it still does today. Years of double-digit growth followed. Blu-ray Disc's growth was all the more remarkable given that in December 2007 came the start of what we now refer to as the Great Recession. In the darkest year of the global economic meltdown, 2009, consumer spending on Blu-ray Disc purchases soared 70% from the previous year, according to DEG: The Digital Home Entertainment Group. And while consumer spending on discs has been going down in recent years, much of the drop is attributable to the phase-out of DVD as well as price erosion.
Since the format was launched, consumers have spent nearly $13 billion on their Blu-ray Disc collections — some 645 million discs, according to Home Media Market Research estimates. And physical disc sales currently account for about $1.6 billion in consumer spending, or 35% of the total, compared with $1.14 billion, or 25%, for subscription streaming (chiefly Netflix).
What's fueling this strong and steady consumer demand?
Archive Quality
Blu-ray Disc by far presents the best viewing experience. That's by design: The "archive quality" aspect of Blu-ray Discs is one of the format's key tenets, meaning studios take great care in handling transfers and video processing because they know the disc is being collected and treasured by people who really care about these movies. With streaming, the focus is on getting the title to the viewer with as few buffering interruptions as possible. And while some streaming services now offer the same 1080p resolution as Blu-ray Disc, they use significantly more compression to deliver content over the Internet — which impacts image quality.
Brett Ratner, who as director and producer is behind a string of theatrical hits, including the "Rush Hour" trilogy and X-Men: The Last Stand, that have grossed more than $2 billion at the box office, told Variety in January that with every movie he makes, the Blu-ray Disc release is always top of mind.
"From the first moment of pre-production to the premiere of the film, I'm always thinking of the home video release," he told Variety.
"It's the way the film will exist forever. Formats might change, but the color correction and sound design will never change. Ten years from now, when technology gets better, I can see myself going back into a film and tweaking some shots. Otherwise I sometimes find flaws are charming and add to the personality and tone of the film."
Critics agree that when it comes to picture and sound, Blu-ray is the way to go. Forbes noted, "For cinephiles or even anyone inclined in that direction, HD content viewed on the finest Retina tablet display or LCD flat screen can't come close to a Blu-ray."
Conduit for Other Viewing Options
Much has been written about UltraViolet and Disney Movies Anywhere, the two cloud-based digital storage lockers that allow consumers to watch their purchased content, at any time, on any device. Blu-ray Disc remains by far the most popular way for consumers to gain access to UltraViolet; recent studio estimates are that upwards of 80% of UltraViolet subscribers unlock their content in the cloud by first buying a disc.
Blu-ray Disc players, too, are a conduit for other viewing options. They don't just play Blu-ray Discs, but also allow users to stream Netflix, Amazon Prime and Hulu, among other choices. In fact, Consumer Reports recently recommended consumers choose Blu-ray Disc players over all other streaming media players, for five key reasons. First and foremost: "They offer streaming options galore. Many of the latest Blu-ray players offer the same video services as dedicated streaming devices. Netflix, Hulu Plus, Vudu, Amazon Instant Video, CinemaNow, YouTube, and a slew of others are pretty common. Blu-ray Disc players, according to Consumer Reports, also have one additional advantage other streaming media players don't: They play Blu-ray Discs.
Gateway to the Future: Ultra HD
Hollywood is now gearing up for The Next Big Thing: Ultra HD. This format has four times as many pixels as 1080p, which means four times the resolution, four times the clarity, four times the information. And with such a significantly bigger load, the most viable distribution mechanism will again be the Blu-ray Disc. In a report published May 18, Robert Stone, an analyst with investment bank Cowen & Company, wrote, "We expect optical discs to be a key format while native 4K broadcast/streaming remains limited."
In May, the BDA announced the completion of the Ultra HD Blu-ray specification and released the new logo that will identify Ultra HD Blu-ray products. The Ultra HD Blu-ray specification, which represents the work of global leaders from the consumer electronics, IT and content creation industries, will enable delivery of Ultra HD content via Ultra HD Blu-ray Disc to the rapidly growing number of UHD TV households.
"For years, Blu-ray Disc has set the standard for high-definition picture and audio quality in the home. Ultra HD Blu-ray will do the same for UHD home entertainment," said Victor Matsuda, chair of the Blu-ray Disc Association (BDA) Promotions Committee. "The technical capabilities of Blu-ray Disc, in particular its significant storage capacity and high data transfer rates, will enable the delivery of an unparalleled, consistent and repeatable UHD experience."
The completed Ultra HD Blu-ray specification addresses a range of factors, beyond simply increasing resolution, that will significantly enhance the home entertainment experience for consumers. In addition to delivering content in up to 3840x2160 resolution, the Ultra HD Blu-ray format enables delivery of a significantly expanded color range and allows for the delivery of High Dynamic Range (HDR) and high frame rate content. Next-generation immersive, object-based sound formats also will be delivered via the Ultra HD Blu-ray specification. Additionally, with the optional digital bridge feature, the specification enhances the value of content ownership by embracing the notion that a content purchase can enable the consumer to view their content across the range of in-home and mobile devices.
The specification also mandates all new Ultra HD Blu-ray players be capable of playing back current Blu-ray Discs, giving consumers access to the vast library of more than 10,000 titles currently available on Blu-ray Disc. Licensing of Ultra HD Blu-ray is scheduled to begin this summer.
In the coming months, Home Media Magazine will publish a series of four additional reports on Blu-ray Disc, with facts, figures and interpretations that more fully explain the Blu-ray Disc story and its significance in not just home entertainment, but to the entertainment industry in general. The first three will explore continued sales strength, versatility and Ultra HD Blu-ray in greater detail; the fourth will be a look ahead at some of the BD and Ultra HD Blu-ray titles in the pipeline for holiday release.
Blu-Ray Disc Association
Home Media Magazine