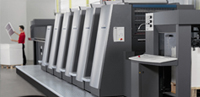 (Color Depot)
Offset printing is the best way to obtain the highest quality for your product(s).
It is a common printing technique that uses a plate to transfer an inked image onto a printing surface. Agfa's Azura TS Plates have set standards in terms of waste production, water usage and sheer imaging efficiency in modern day imaging technology. These plates provide the high quality imaging you would expect from a thermal system, without chemical processing.
Regarding offset equipment, brand new state-of-the-art prepress, press, and postpress Heidelberg equipment allows consistent high image quality. Offset printing is for quantities of 500 or more. For jobs with quantities less than 500, digital presses are utalized..